Wow, what a race! With some massive highs and a plenty of challenging moments, Salomon Ring of Steall Skyrace was epic and easily one of the most beautiful routes I have run this year.
Rewinding to the beginning of the weekend… I arrived, slightly groggy after a 7 ½ hour drive, in Kinlochleven and headed straight to the Ice Factor the event centre for the weekend. As expected it was absolutely buzzing with keen runners and enthusiastic supporters.
First things first it was time for a cup of tea! After this, the plan was to head up the start of Na Gruagaichean to watch the runners taking part in the VK race. For those of you who do not know this race covers 1000m height gain in less than 5km and looked brutal! Despite feeling a little more out of breath than I would have liked simply walking up the route as a spectator I was totally psyched for my race the next day, it was fantastic to be back in the mountains.
Suitably nervous and excited for the next day, I decided to register that evening (I knew I'd be flapping in the morning!) before setting off to Caolasnacon Campsite. Here we were greeted by Florian and Tobias, two runners who were also taking part that weekend. We had all meet virtually via Skyline Scotland Facebook group and decided to share accommodation. Not only was this saving the pennies it also was so great to meet new people. This is something I love about the fell and ultra running community – everyone is so friendly, and there is not a race that goes by where I have not met more like-minded interesting people.
The next morning I was up early repeatedly checking my kit and trying hard not to get too nervous! The week leading up to the race had not been ideal. Despite feeling really good in training recently I had unfortunately come down with an infection eight days before the race. Straight on the antibiotics I was feeling well again but knew I would have to be cautious in the race not to overdo it (not one of my strong points). Determined not to pull out the plan was to start but drop out if I felt at all ill at any point.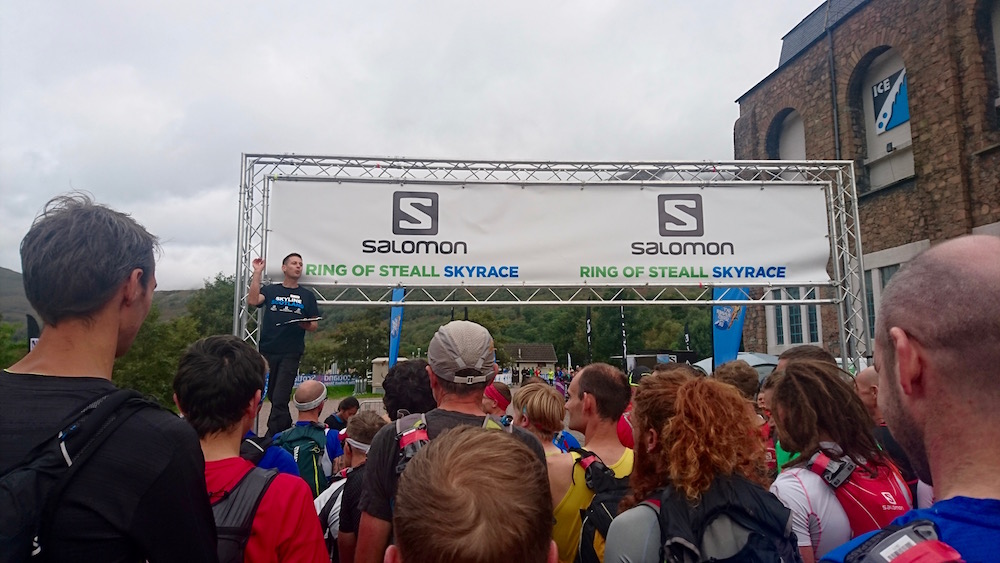 So there I stood, on the start line with the sound of bagpipes filling the mountains, one of 300 runners – I couldn't wait to get going – I knew we were all in for an amazing day. After a quick briefing from the race director, we were off! Resisting the urge to sprint off like an overexcited mad thing, I tried to settle into a good rhythm, after all, the first quarter of the race was a long slog up to the first of the four Munros we would be ticking off that day.
Quite surprisingly I felt pretty good on this section – I think it was a combination of trying not to push too hard and starting eating very early on. This was a new tactic for me, but one I think worked well – little bits and often is clearly a good strategy. As the route progressed in a stubbornly consistent manner up towards Sgurr an Iubhair I felt so lucky to be able to be outside doing what I was doing. Soon we approached the summit, here the view opened out before us showing the stunning Ring of Steall in all its glory, this was both a touch intimidating and inspiring.
Ascent over it was time for my two favourite bits – the ridge and descent. Still feeling strong this was the absolute highlight of my day. I loved the exposure on these sections. Over a week later I still feel giddy thinking about this descent – from loose, steep scree onto rocky paths that then turned into thick mud, it had it all. I felt like I was flying, the reality is I spent a lot of time falling over, but I couldn't have cared less it was incredible! All I could think was 'THIS is why I run!'.
Before I knew it, I had reached the aid station. Grabbing a few snacks and refilling my water I didn't feel the need to stop long. My plan was to take the next few miles pretty easy and try and eat plenty topping up my energy levels before the next big climb. Originally this section of the route was meant to go through the Nevis Gorge. However, a recent landslide meant this was no longer feasible, so instead we were rerouted around this. Although this didn't change the total distance or height gain, it was certainly a change in terrain, as now we had to wade through a few miles of very deep bog. There was one point where I was literally thigh deep in mud and slightly questioning what I had signed up to… Was this a tough mudder or a skyrace? Either way, it was great fun!
Clambering out of the other side of the bog it occurred to me how drained I was feeling. Despite having eaten well I just didn't feel like it was translating to any energy. I felt utterly frustrated; I had felt so good in the first half. Pushing that to one side I got on with the task in hand, the next big climb, hoping things would pick up.
Now, I am not one for negativity, but I will be frank, the next few hours were tough and definitely type two fun. I learnt the hard way that there is a difference between feeling better from being ill and having fully recovered. It was apparent that I had not – it was a different sort of tired, my whole body felt drained, even my arms. More than anything I was finding it hard not to be demoralised by other runners passing me. In my mind, I could without a doubt, push myself harder through this, but I knew this was not the sensible decision and being able to come away from the race not completely broken was the most important thing. So I plodded on trying to keep things ticking over and just gently moving forward!
Anyway enough about my inward struggle! The sun was out; I had plenty of time to make it to the finish, and the views were breathtaking. Not only that, there was more scrambling to look forward to. Reaching the top of Stob Coire a' Chairn, I paused for a moment trying to pretend to look more composed and spectating the view than utterly pooped! There was not far to go – just one long descent back into Kinlochleven and the finish. This section was again pretty entertaining, everything was just so muddy and with tired legs, I just kept hitting the deck! However that didn't matter, either way, I was getting closer to the finish.
After nearly 7 hours of running, I suddenly got a spurt of energy as I approached the finish and unexpectedly managed to sprint across the line. I can safely say this was 100% adrenaline as my legs amusingly decided to turn to jelly the moment I stopped. What a day! As far as races go this was not my fastest or best performance, but it did have some exceptional parts to it. There were moments where I could see how much recent training had paid off and likewise moments where I could see how stubbornness didn't!
But more than anything, the route, set up and organisation of the whole event was awesome. Anyone looking for a challenge should seriously consider this – I have no doubt you will have a tough but incredible day out.
In the meantime, my plan is to make sure I recover properly – get back to training and get strong enough to potentially enter the full Glencoe Skyline race next year. See you there?!
You can see the full route below or download it from ViewRanger. Those on mobiles you might find it easier to view it here.